Check out our Locker Ladders! Perfect for organizing your books and binders!
Welcome to "Raff and Friends." We are a family owned toy store located in Clarence, New York. We are committed to excellence when it comes to the products you purchase.
We believe that everyone has strengths, dreams, and potential. To understand that everyone is different, but very special, is true magic. Our Corporate Tag Line "The Magic is in Everyone."
Our business began with a line of children's books simply titled "Raff's Magic Touch."
Today's children are our greatest resource. Growing minds need encouragement and quality products designed to help you raise smarter kids. Our products have a strong emphasis on child development, child education, and character education. For children at heart, we carry a wide variety of fun and quirky games, toys, puzzles, plush, and more.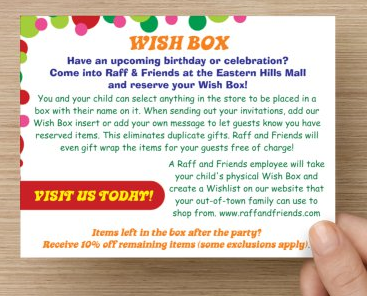 Birthday Wish Box:
Don't just look for ideas, but physically reserve birthday wish items in a Birthday Wish Box. Selected products will be reserved up to two weeks prior to the upcoming birthday, and will be available for wish givers to select from. This reduces the risk of duplicates and/or giving gifts only to be returned. Items can then be gift wrapped and stored at Raff & Friends until the day of the party. Each box will have the child's name and birthday date. All Birthday Wish Boxes will stay open until 2 days after the child's birthday. All remaining items will then be returned to the floor. A Wish Box insert will be available to send with your invitations to inform your party goers.